Metals — including the common alloys such as bronze, brass and steel as well as iron, copper, aluminum, silver and lead — are versatile materials for art-making as they can be worked in a multitude of ways, including casting, forging and hammering. A wide range of surface finishes are available as well. Common condition problems with metal objects include surface oxidation or tarnishing, corrosion, structural damage or embrittlement.
The principals at SBE have treated metallic objects small and large, archaeological to modern. Our most common treatment is the removal of surface oxidation or other corrosion products with materials that best preserve the surface of the original object and do not introduce additional corrosive agents, as many commercial polishing materials can. In addition, we have experience soldering fine metals (silver and gold) and casting original pieces.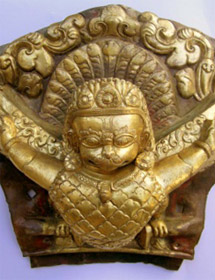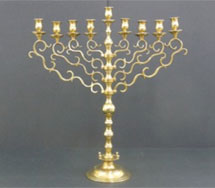 A Torana is an architectural feature that forms an arch over a doorway in Hindu and Buddhist sanctuaries. This Torana, composed of seven separate sections, was formed from sheet of a copper alloy, worked from the front and the back to create the elaborate ornamentation. The surface was then gilded. Over time, soiling and copper oxidation products were deposited on this surface, and its golden details became dulled. SBE was contracted to treat the object. Work involved an overall cleaning, including the application of a chelating agent in order to reduce the copper alteration products present. In addition, small losses were filled, and the entire piece remounted to create a better alignment.